Don't miss this exclusive event October 1-3 in Pismo Beach. Join over 60 wineries on the cliffs of the Pacific Ocean in beautiful Pismo Beach for the only Festival Series dedicated to Sparkling Wine in the United States, Bubblyfest By the Sea. Indulge in new events, the best champagne and sparkling wines from all over the world, and one-on-one experiences with the winemakers behind the bubbly Bubblyfest By the Sea.
2015 SCHEDULE OF EVENTS
Thursday, October 1, 2015 6:00PM-9:00PM | The Oyster Loft, Pismo Beach:
BUBBLY AT SUNSET: SPARKLING WINE DINNER
Pismo Beach is best known for their epic spots to catch the sunset over the Pacific, and Bubblyfest By the Sea has a front row table for you! Join Bubblyfest By the Sea at their newest spot right off the iconic Pismo Beach Pier, The Oyster Loft, for a 4 course meal prepared by Chef Jerrod, and paired with non-traditional Sparkling Wine varietals from Solminer, Halcyon Wines, Riverbench, and Opolo. Enjoy an evening of amazing food, and spectacular views of the sunset over the Pacific. Guest count is limited to 40 for this intimate experience, so reserve your place at this delicious event.  Due to limited availability, no discounts are offered for this event.
Friday, October 2, 2015  9:30AM-1:30PM | Shuttle Pick Up at The Cliffs Resort:
EXCUSIONAR PRESENTED BY LAETITIA VINEYARD & WINERY
Join Laetitia Vineyard & Winery for Bubblyfest By the Sea's first-ever Sparkling Excursion-ar! (That's an Excursion Seminar)  Bubblyfest By the Sea will depart the Cliffs Resort at 9:30 AM for Laetitia Vineyard and Winery in luxury transportation by Breakaway Tours, where Laetitia Sparkling Winemaker Dave Hickey will then greet you with a live demonstration of bottle sabering on the lawn outside of their picturesque tasting room. Next, Bubblyfest By the Sea will follow Dave into the Laetitia Press Room where you will learn about their prized Coquard Presses (the only two of their kind in North America) and what these age-old basket presses bring to the Laetitia sparkling winemaking process. Bubblyfest By the Sea will then head down to the Laetitia Cellar for a walk-through of the sparkling production facility during Harvest and a close-up look at the machine now used for riddling sparkling bottles during fermentation. After, Dave will walk you though a tasting of their seven sparkling wines at the Laetitia Estate House, with magnificent vineyard and Pacific Ocean views, to be followed by a delicious lunch catered by Chipwrecked. Truly an event not to be missed!  
Friday, October 2, 2015, 2:00 PM-4:30 PM | The Cliffs Resort, Pismo Beach:
WINEMAKER SEMINAR SERIES PRESENTED BY EDUCATIONAL PARTNER THE SF WINE SCHOOL
Join Bubblyfest By the Sea for a Seminar Series featuring a distinctive panel of Winemakers and Industry Insiders covering in-depth topics focused on Sparkling Wine Production, Style, and a look into future trends. David Glancy will take guests first to the Champagne Region for an edu-tasting on the History of Champagne and the New Age of California Sparkling Wines. Listen to what the Bubblyfest By the Sea panelists say about their vintages, growing conditions, terroir and winemaking styles as you compare and contrast the "Old Guard" versus the "New Guard.
Seminar  Facilitator David Glancy is the founder and Chief Education Officer of San Francisco Wine School. He is one of only 12 people in the world to pass both the Court of Master Sommeliers' Master exam (MS) and the Society of Wine Educators' Certified Wine Educator exam (CWE). Glancy has also passed the Certified Specialist of Spirits exam (CSS) and French Wine Scholar exam (FWS). He launched San Francisco Wine School in May 2011. The school provides professional wine studies including French Wine Scholar (FWS), Society of Wine Educators' programs (SWE),  California Wine Appellation Specialist (CWAS) and much more. Glancy also runs SFsommelier Consulting and is on the Editorial Advisory Board of Sommelier Journal. David's esteemed panel includes Norm Yost of Flying Goat Cellars, Clarissa Nagy of Riverbench Winery, and Tyler Elwell of Halcyon Wines. Seminar guests will be treated to tastings from 4 top Champagne Houses in France: 2004 Dom Perignon, Veuve Clicquot, Ruinary Blanc de Blancs, and Taittinger Brut Francais; as well as 3 California Sparkling Wines by our Panel Winemakers.  
Friday, October 2, 2015 6:00 PM-8:00 PM | The Custom House Wine Cellar, Avila Beach:
COCKTAILS & CORKS
Enjoy a jazz filled evening in our Champagne Speakeasy, as Bubblyfest By the Sea's popular Gatsby inspired Cocktail Party returns! Sip from 4 unique Sparkling Wine cocktails from recipes concocted by Bubblyfest By the Sea partner Wineries, Sparkling Wines by the glass, and light bites. 1920's Cocktail Attire Encouraged at this hat tip to hot jazz, and cool bubbles party!  Specialty Cocktails created by: Jack Creek Cellars, Vina Simpatico, Gruet, and Rack & Riddle. Sparkling Wine Pours by: Brewer-Clifton, Rack & Riddle, Gruet, Pomar Junction, Chronic Cellars, See Canyon Hard Cider.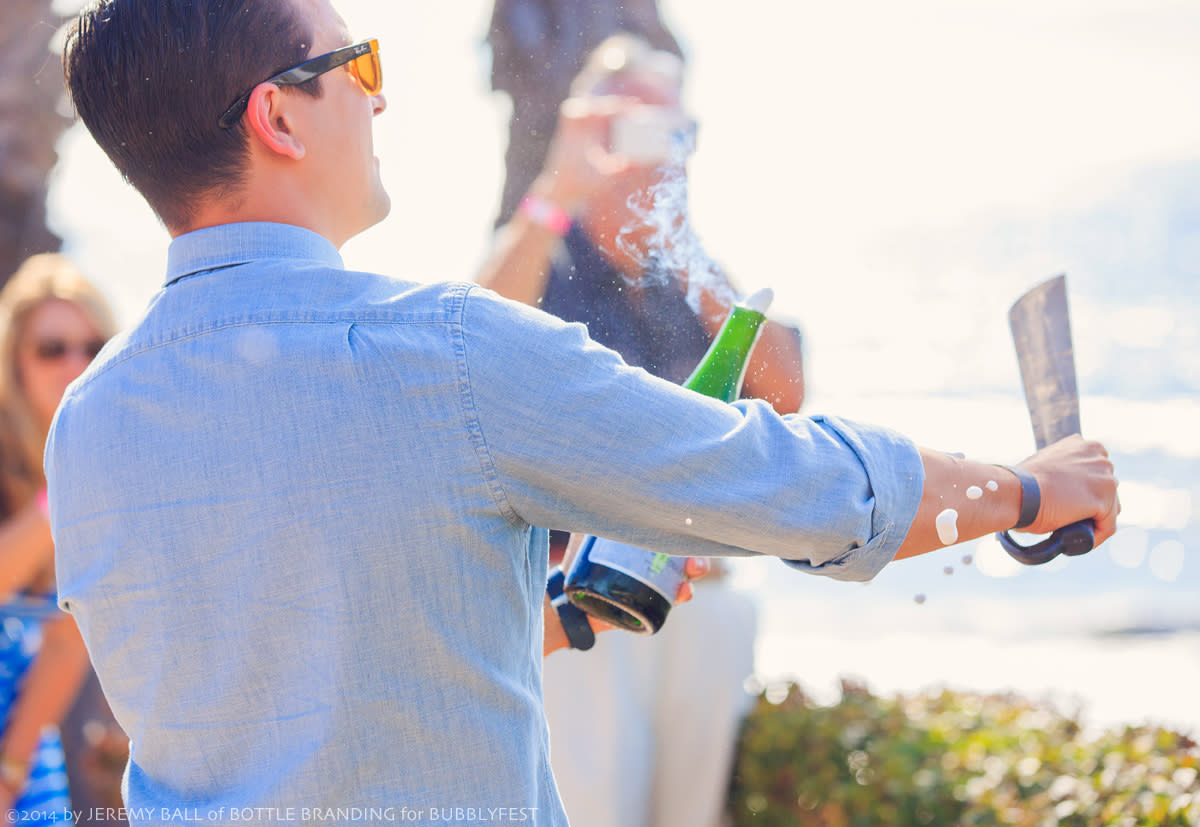 Saturday, October 3, 2015 11:00 AM-12:00 PM | The SeaCrest Resort, Pismo Beach : GRAND TASTING
Join over 60 Sparkling Wineries from all over the world at the only dedicated Sparkling Wine Festival in the United States at the gorgeous SeaCrest Resort on the cliffs of the Pacific Ocean! Attendees will enjoy unlimited tastings, light appetizers by The Cliffs Resort and Field to Table Catering, and engaging open seminars from Sabering Workshops to Champagne Cocktail talks.  
For more information visit http://www.bubblyfest.com/