We are thrilled to roll out a brand-new blog series featuring recipes from your favorite Pismo Beach restaurants! This series, "ATE-0-5", a play on our local telephone area code, 805, enables you to recreate signature local dishes and bring a taste of Pismo home with you into your own kitchen.

This week we feature an incredibly decadent Blue Ribbon Carrot Cake recipe from the new chef, Randy Miller, at beloved Cracked Crab. This is a carrot cake to beat them all, complete with a buttermilk glaze and cream cheese frosting.

Snag the full recipe below and be sure to stop into the Cracked Crab as they will be featuring this new dessert on the menu very soon. Happy baking!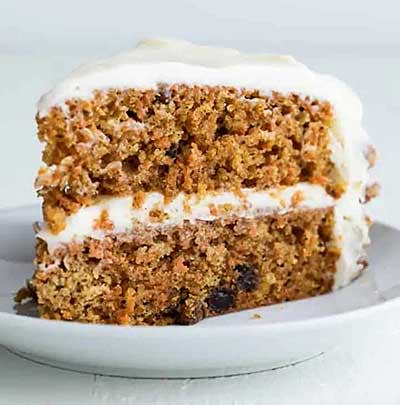 Blue Ribbon Carrot Cake
2 cups all-purpose flour
2 teaspoons baking soda
2 teaspoons cinnamon
1/2 teaspoon salt
3 eggs
3/4 cup vegetable oil
3/4 cup buttermilk
2 cups sugar
2 teaspoons vanilla
1 (8 oz.) can crushed pineapple, drained
2 cups grated carrots
3 1/2 oz. Shredded coconut
1 cup chopped walnuts
Buttermilk Glaze, see below
Cream Cheese Frosting, see below
Buttermilk Glaze
1 cup sugar
1/2 teaspoon baking soda
1/2 cup buttermilk
l/4 lb. Butter
1 tablespoon corn syrup
1 teaspoon vanilla extract
Cream Cheese Frosting
1/4 lb. Butter, room temperature
1 (8 oz.) package cream cheese, room temperature
1 teaspoon orange juice
1 teaspoon grated orange peel
2 cups powdered sugar
1 teaspoon vanilla

Preheat oven to 350*.  Generously grease a "13" x 9" baking dish or two 9-inch cake pans, set aside. Sift flour, baking soda, cinnamon, and salt together, set aside. ln a
large bowl, beat eggs.  Add oil, buttermilk, sugar and vanilla; mix well. Add flour mixture, pineapple, carrots, coconut and walnuts.  Stir well.  Pour into prepared baking
dish or pans.  Bake 55 minutes or until wooden toothpick inserted in center comes out clean. While cake is baking, prepare Buttermilk Glaze.  Remove cake from oven
and slowly pour glaze over the hot cake.  Cool in pan until glaze is totally absorbed, about 15 minutes. Turn out of pan, if desired.  Cool completely.  May be frozen at this
stage: Prepare Cream Cheese Frosting.  Frost cake.  Refrigerate until frosting is set.  May be refrigerated for several days.  Serve chilled.  Makes 20 to 24 servings.
 
Buttermilk Glaze
In a small saucepan, combine sugar, baking soda, buttermilk, butter and corn syrup. Bring to a boil. Cook 5 minutes, stirring occasionally.  Remove from heat and stir in
vanilla.
 
Cream Cheese Frosting
Cream butter and cream cheese until fluffy. Add vanilla, powdered sugar, orange juice and orange peel.  Mix until smooth.