City to the Sea Half Marathon on October 9, 2016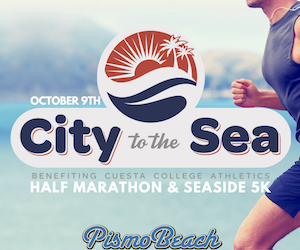 Get out your running shoes and prepare for the 20th annual City to the Sea point-to-point half marathon starting in San Luis Obispo and ending in the beautiful coastal town, Pismo Beach.  Since 1995, the City to the Sea half-marathon race has been organized to raise funds for the Cuesta College track and field and cross-country teams. Race registration proceeds help ensure that the athletes can continue training and racing in one of the California junior college system's best programs. The City to the Sea event is family-friendly offering 13.1 mile half-marathon, a 5k race (3.1 miles) that takes place in Pismo Beach and a Kids Fun Run.
From gear to stickers to discounts, City to the Sea's sponsors do a great job of helping runners feel loved before they even toe the line. With their race packet, all runners will receive an official City to the Sea T-shirt. This shirt is perfect for training runs and races, or for just wearing around town to show off your love for City to the Sea. All half marathon runners who finish within the three-hour time limit will receive a commemorative City to the Sea finisher's medal. Wear it around your neck for days or hang it in the office. Either way, people will always know that you're a runner with exceptional taste in races.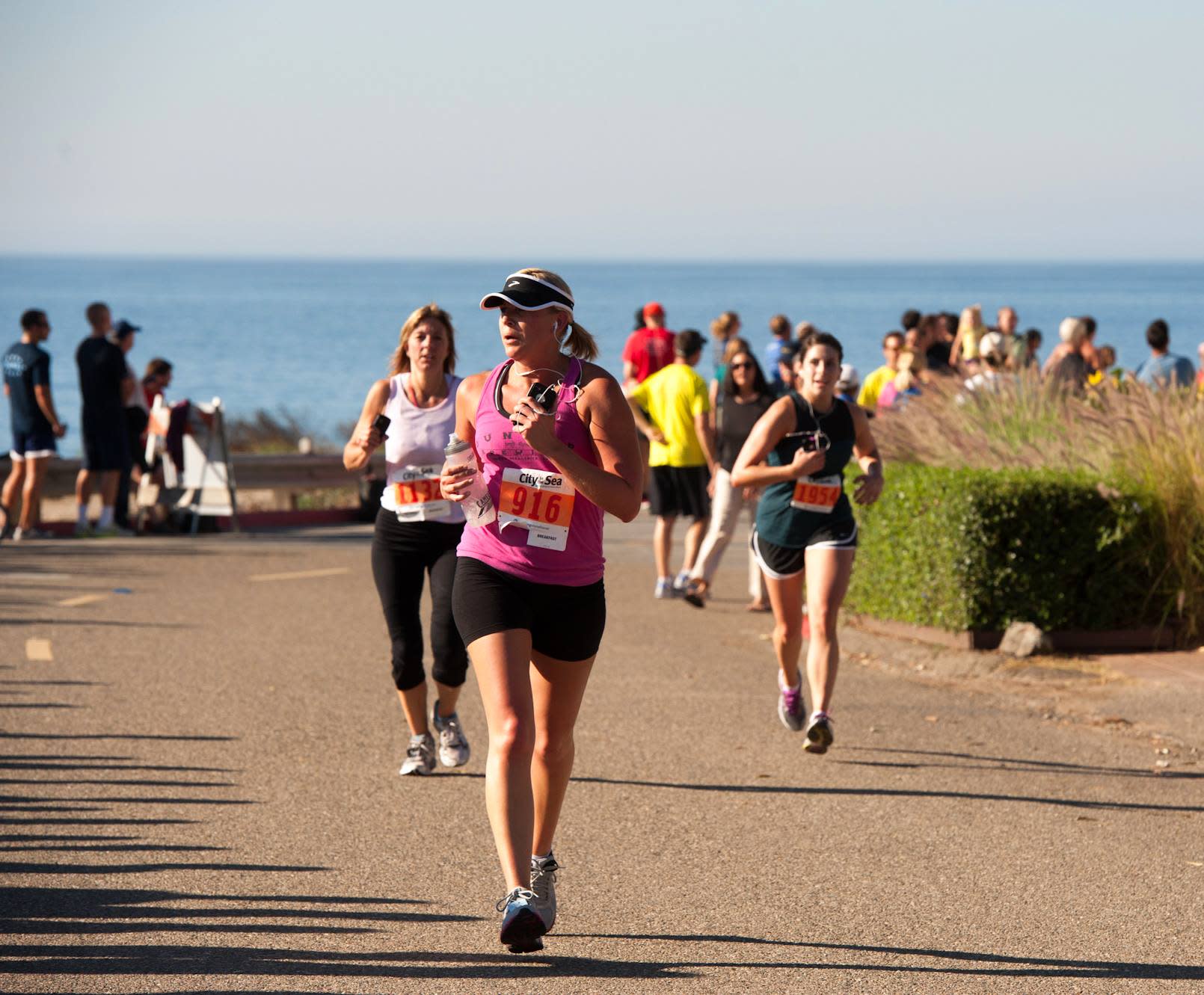 2016 City to the Sea Half-Marathon Schedule
Saturday, October 8th
Packet Pick-up: 11:30 – 4:30 pm at Running Warehouse
Sunday, October 9th
½ Marathon Race Day Packet Pick-up: 5:30-6:30 am, Union Bank Parking Lot, Court St. & Higuera
5K Race Day Packet Pick-up: 6:00-7:00 am, Dinosaur Caves Park, Shell Beach Rd.
½ Marathon Start Time: 7:00 am
5K Start Time: 7:30 am
Kids Fun Run: 8:30 am
Shuttle to SLO from Pismo: 8:30 am-12 pm
Shuttle between Dinosaur Caves Park and Shell Beach Elementary: 6:00-11:30 am
Breakfast: 8:00-11:00 am
Kids' Zone: 7:30-11:30 am
Traffic & Safety Tips
Help the City to Sea Marathon put on the best event possible while helping yourself and others enjoy the day Please always be respectful of other runners, volunteers and race organizers. Remember, all participants are there to have fun.
Pre-Race Etiquette
Pin your bib number on the FRONT of your shirt so event facilitators can see it. Tie the computer chip onto your shoe.
Give yourself plenty of time to use the restrooms in the morning and be courteous with others in line.
California Highway Patrol, San Luis Obispo Police and course monitoring volunteers will be prevalent throughout the course. To help event facilitators provide the safest event possible, event facilitators ask that all participants and vehicles strictly adhere to the direction of these officials.
During-Race Etiquette
Do not run through the finish chute more than once. This causes inaccurate times and delays results.
Stay to the side of the road throughout the race and give others plenty of space to run, especially when making passes.
Please be courteous to aid station volunteers – they are donating their time to make the race possible.
Post-Race Etiquette
Do NOT go back and run in with a friend if you've already gone through the chute. This causes inaccurate times and delays results.
After finishing, head to the awards area, get your breakfast and relax with your family and friends!
Notices on Road Closures
Select streets from Higuera Street, in downtown San Luis Obispo, through streets in Pismo Beach will be subject to closure as racers make their way through the course.
For the safety of the estimated 2000 runners, we request that you find alternate routes during race day. The course will be staffed by the San Luis Obispo Police Department and California Highway Patrol and Pismo Police Department, who will be directing traffic and runners, as well as by Cuesta College staffed course marshals and volunteers.
Safety Tips
The event's goal is to make sure everyone has a great time, runs fast, and most of all, stays safe on the course. Please read the event facilitators safety tips below so please follow their guidelines to help you have the best race day possible.
Always stay within the cones: The course will be prominently marked with orange safety cones and traffic barricades. Please stay to the right, or between, the cones, unless prompted by a course official, at all times while running.
Listen to course marshals and volunteers: Course marshals and volunteers, staged frequently along the course and wearing orange safety vests, are trained to help keep you safe and secure. Listen carefully to the course marshals and volunteers, who will be directing you where to go.
Stay to the right of the road and move across when prompted: This is NOT a CLOSED COURSE, cars are allowed. To ensure your safety stay to the right of the road or in the bike lane and if you're asked to move across the street by a volunteer or course marshal, move where, and only when, they direct you.
Always heed to CHP and SLO PD: The California Highway Patrol and San Luis Obispo Police Department will be located at major intersections and other strategic points throughout the City to the Sea course. They are there to help keep the course safe at all times. ALWAYS listen to their instructions—as they will be managing traffic for your benefit and directing runners for your safety.
Follow all traffic signs when posted: Traffic signs will be posted frequently throughout the race designating runner to "stay to your right" and "cars to the left". Always adhere to the posted and California State regulated signage to keep a clear division between possible car traffic and roadways used by runners.
Stay Hydrated: The race starts early enough to beat the midday heat, but it's still critical to hydrate often. Dehydration can sneak up on you quickly if you are not careful. Take water or FLUID electrolyte drink from every aid station you pass, just to be on the safe side.
Both the Half Marathon and 5k sold out last year – get your registration in early!  For registration and information, visit http://citytothesea.org/