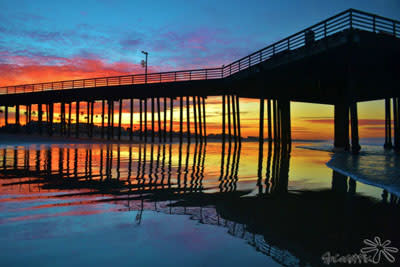 As the sun melts into the horizon, the evening sky in the west ignites in brilliant vermillion, tangerine, and saffron. Luminous backlit clouds bathe the pier in a warm glow. The sultry sunset draws your eyes to the incoming rippled ocean, and then up to miles of crystalline white sands.  Together your feet leave prints in the sand, soon to be washed away by the incoming waves.  Breakers roll against the pier, soft evening winds whisper, and seabirds skitter on the shoreline.  The sea salt scent overtakes your senses, as the water mirrors ruby, sapphire and violet.  The starlit sky turns indigo. Lights twinkle across coves and hillsides.  The dark waters embrace the setting sun.  It's just the two you.
As February 14th approaches, romance perfumes the air and what could be more seductive than a Saint Valentine's Day walk, hand-in-hand, on the pristine shores of Pismo Beach and watching the sunset from the pier with your partner? Couples will have their breath taken away by this Classic California ocean sunset. The 1,370 foot-long wooden Pismo Beach Pier, one of longest ocean piers in California, delivers an exhilarating vista of rugged coastline and oceanic caves nestled below the cliffs.  Stroll along the pier with your partner; bring a picnic basket of snacks. Telescopes, wooden benches and tables provide the ideal setting for a seaside rendezvous. Afterwards, it is just steps away to your beachfront resort, with fine dining of locally grown farm-to-table and seaport-inspired cuisine, downtown wine tasting rooms, and entertainment.
The historic Pismo Beach Pier is located downtown Pismo Beach at the end of Main Street.  While other California piers are closed during some prime hours, Pismo Beach Pier never closes.  The parking lot is adjacent to the Pier, at the end of Addie Street. Directions from the south on Highway 101: take Pismo Beach-Price Street exit; follow it to Pomeroy; turn west and follow it to the pier. From the north on Highway 101: take the Five Cities Drive exit; follow Dolliver into the middle of town; then turn west on Pomeroy and follow it to the pier and parking lot.