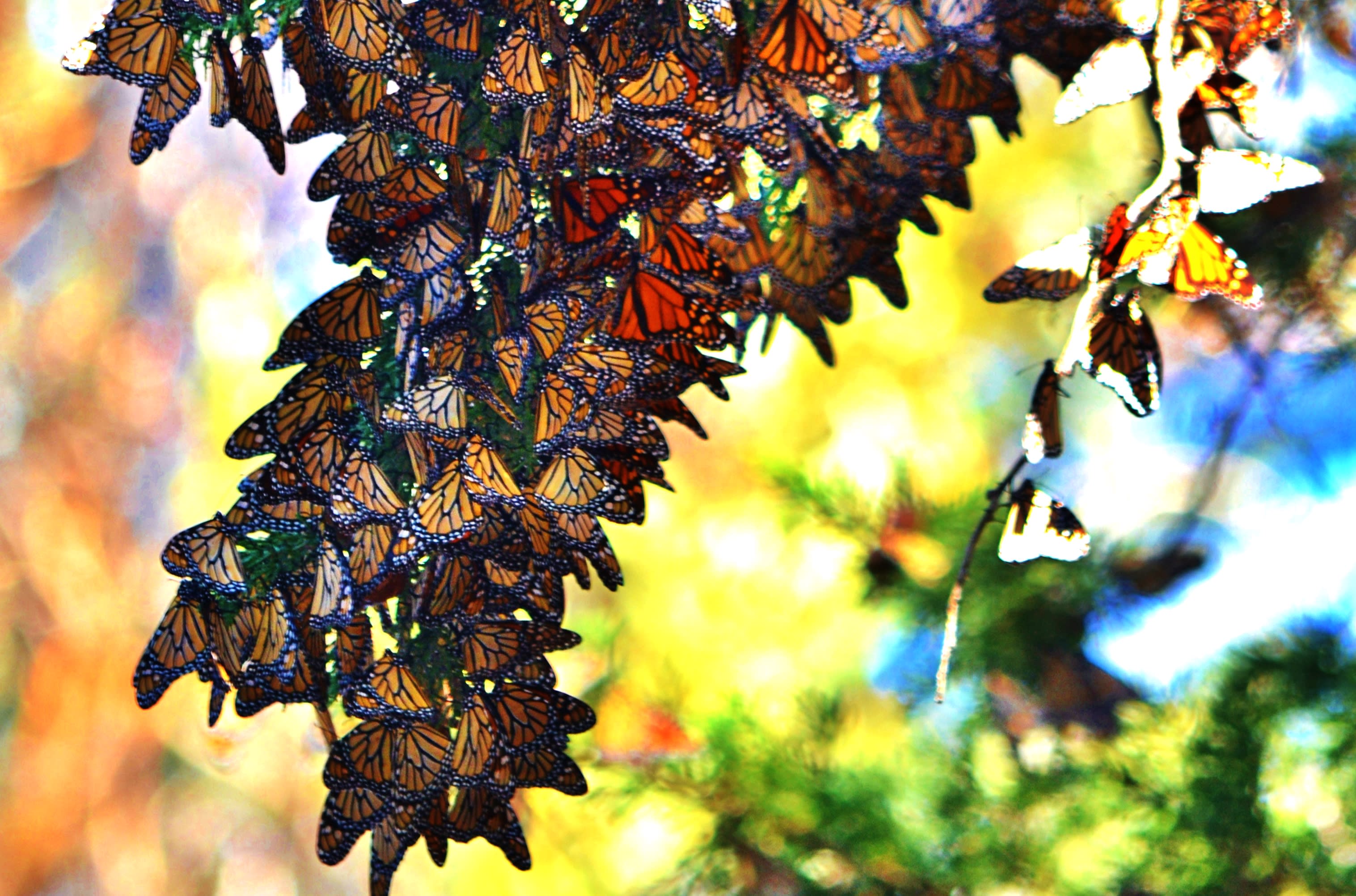 The Pismo Beach Monarch Butterfly Grove is one of only five sites in the state that has counts over 10,000. Pismo Beach's grove usually has the highest counts of any of the largest California overwintering sites.
Each year thousands of vibrant orange and black Monarch Butterflies flock to Pismo Beach, seeking shelter from the freezing northern winters. From late October to February, the butterflies cluster in the limbs of a grove of Eucalyptus trees at Pismo State Beach. The grove is easily accessible. It is located on State Highway 1 at the south boundary of the city limits of Pismo Beach.
Spectators come from all over the Central Coast and throughout the state to view the Monarchs. Knowledgeable and well-informed volunteer docents offering daily talks and information greet visitors.
The butterflies form dense clusters with each one hanging with its wing down over the one below it to form a shingle effect. This provides shelter from the rain and warmth for the group. The weight of the cluster help keeps it from whipping in the wind and dislodging the butterflies.
Pismo Beach's monarch colony is one of the largest in the nation, hosting an average of 25,000 butterflies over the last five years. The Monarchs that visit Pismo Beach are a special variety. They have a life span of six months as opposed to that of common Monarchs who live only six weeks. This can be attributed to a unique fat storing system. However, even with an extended life span, those butterflies that leave in March will never return.
Scientists do not know why the Monarchs consistently return to some wintering sites. In North America, those sites range from the Central and Southern California Coast to Mexico. Some scientists speculate that the insects are equipped with genetic homing systems that lead them from their summer sites in the Sierras, Florida, Canada and the Great Lakes Region in North America back to their winter locations.
On the Central Coast, Monarchs winter in Pismo Beach and during the season; the Docent Trailer opens at 10am and closes at 4pm daily. Daily talks happen at 11am and 2pm, weather permitting. The Monarch Butterfly Grove is located in the extreme southern end of the City of Pismo Beach just off CA-Hwy 1. For more information or directions, visit ClassicCalifornia.com.  Find coloring pages for kids and other educational, fun creatives at http://www.monarchbutterfly.org/monarch_color1.htm