Summer isn't over yet, and there's still time to enjoy some heart-pumping, adrenaline-inducing, exciting activities in Pismo Beach and surrounds during this warm and wonderful time of year. Whether it's during the week or on weekends, Pismo Beach has so many awesome adventures for you, your family members, and friends to enjoy. There are always excellent lodging specials to take advantage of, and your canine companion(s) can tag along at our many dog-friendly establishments.  And let's not forget all of the delicious dining you can experience while you're here. Let's take a look at some of the many exhilarating things there are to do here: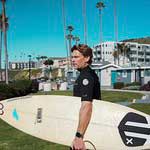 Come on in—the water's fine! We have year-round board and boogie-board surfing north and south of the Pismo Pier. Boards and wet suit rentals are available. Pismo and Shell Beaches offer spectacular rocks, caves, cliffs, beaches, and coves, perfect for sea kayaking. Stand up paddleboarding can be enjoyed north and south of Pismo Pier, as well. Kiteboarding is an exciting endeavor, too. You can get all the equipment you need, such as wetsuits, GoPro cameras and accessories, surf leashes and board bags, photo bags, backpacks, travel bags, helmets, and more.
Have you ever been whale watching? April to early December is Humpback season. What a thrill it is to see these majestic animals in the wild, along with many other sea animals. They can be seen from the beach and the Pier. But a super enjoyable outing would be to take a two-hour whale watching excursion out of Avila Beach—there are two each day.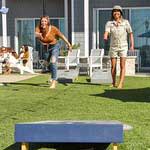 How about some energetic sportfishing? Book an exciting trip, fishing for Rock Cod, Salmon, Halibut and more, from Pismo Sands Beach Club. All the equipment, bait, and tackle are provided, and all you have to do is come on out and have fun! Will you catch "The Big One?"
Experience the Central Coast on horseback with Central Coast Tailrides. Rides are available year-round by appointment. They operate primarily out of the Paso Robles wine region and offer thrilling guided horseback riding.
At over 900 acres, the Pismo Preserve offers recreational opportunities for outdoor enthusiasts. Enjoy over 10 miles of existing ranch roads and trails, ideal for hiking, mountain biking, and horseback riding. These trails traverse oak woodlands and coastal ridge lines, with stunning panoramic vistas of the Pacific Ocean, stretching from the Irish Hills to Point Sal.
Speaking of biking, there are miles of bike lanes and bike trails in and through town and along the spectacular coast. We have bike rentals at your service. A very limited amount of beach wheelchairs for disabled persons are available to borrow from Sandcastle Hotel.
Guided hikes to ancient Chumash Indian sites in the Oceano Dunes and elsewhere are offered regularly by State Park Docents and the Natural History Association. The Oceano Sand Dune area, often used in movies and TV shows, is recognized as the finest, most extensive coastal dunes remaining in California and are an incredible sight to behold. You can hike, surf, paraglide, fish, ride horseback, rent ATVs, and more. This unique recreational area is home to diverse wildlife, as well. Stop by the Oceano Dunes Visitor Center and experience hands-on exhibits about local plant and animal species, Pismo clams, and off-road vehicles. Adventurous four-wheel ATV riding on the Dunes is a thrill for ALL of your senses.
We hope to see your adventurous self soon. Come get your thrill on!