SAVOR the Central Coast Kicks Off with Strings at Sunset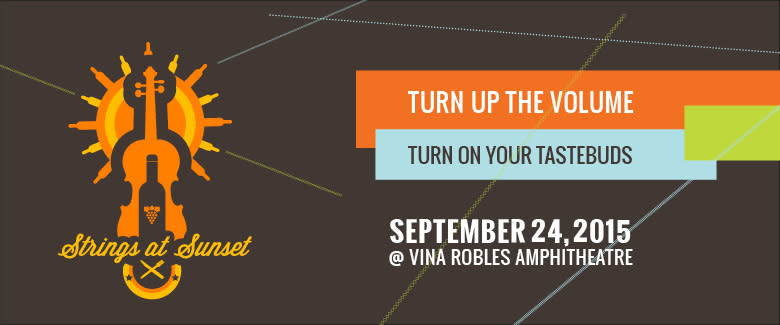 Strings at Sunset, SAVOR's new kickoff event, will be held at Vina Robles Amphitheatre on Thursday, September 24, 2015. Featuring theatrical performances from award-winning artists String Theory and DJ Violinist SPAGS, Strings at Sunset attendees will enjoy wine pairings from the 2015 Sunset International Wine Competition winners, celebrity chef tastings, and more.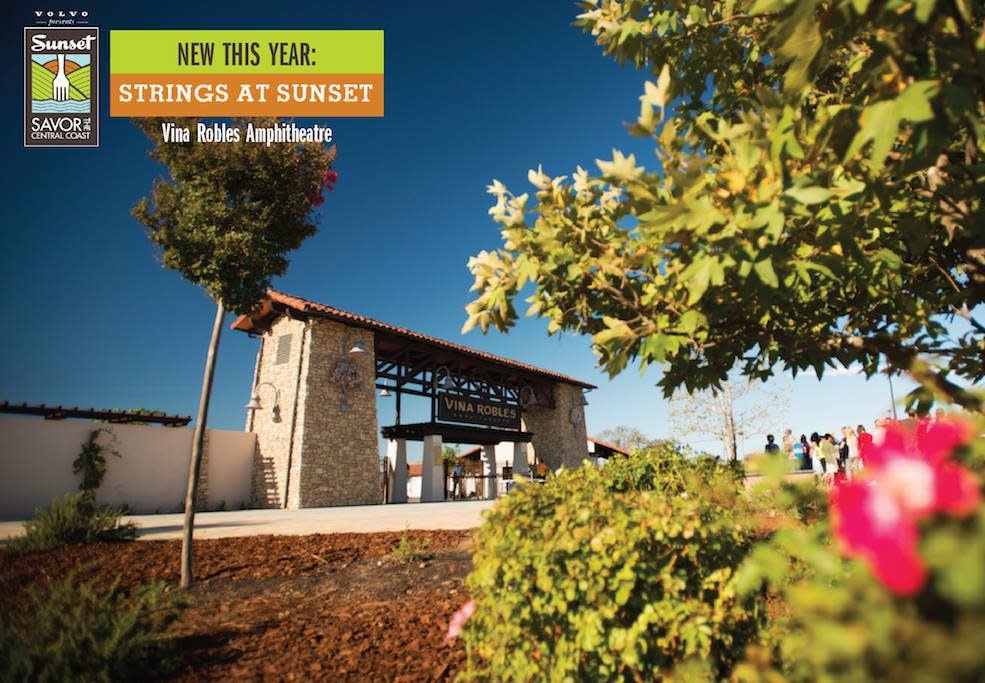 "Strings at Sunset elevates the senses and suspends reality, sending taste buds over the epicurean edge! The only thing that can be expected is the unexpected, at the new kick-off Strings at Sunset," said Chuck Davison, CEO of Visit San Luis Obispo County. "Strings at Sunset transforms Vina Robles into a food, wine and music lover's paradise in a completely new and sensational opening night, setting the stage for the four-day epicurean extravaganza, Sunset SAVOR the Central Coast."
Throughout the evening, guests dine with celebrity chefs and culinary personalities including James Beard Award-winning author of Kitchen Gypsy (September 2015), international cooking teacher and chef, Joanne Weir, as well as popular food blogger, culinary instructor and author of Eating Up the West Coast (April 2015), Brigit Binns. Stay tuned for more celebrity announcements! "Strings at Sunset is a can't miss event and offers a truly unparalleled food, wine and musical experience. Whether attending Sunset SAVOR The Central Coast for the first or the sixth time, you are in for an evening of phenomenal and delicious surprises," said Peggy Northrop, Sunset Editor-in-Chief.
The nighttime spectacular features visually stunning headlining performances from award-winning artists including: String Theory - String Theory is a hybrid performance ensemble that combines their signature gigantic architectural harp installations with original music, dance, and projections, transforming the stage into a giant musical instrument. SPAGS - Jennifer Spingola, known as "Spags", has been amazing audiences around the world for years now with her virtuosic technique, inventive arrangements, and compelling performance style. Widely known on the scene as "the dj violinist," Spags creatively merges the classic violin world with the modern music world.
VIP tickets are limited and in demand, VIP attendees enjoy:
• Early admission to attend the Sunset Editor's VIP Reception
• Red carpet arrival • Celebrity chef meet and greet
• Access to exclusive "Sparkle Lounge" featuring intimate seating, delectable desserts, late harvest wine and lots of bubbles.
• Reserve Room wine tastings
• Enhanced concert seating Volvo, creator of high-end luxury vehicles, hosts the ultimate VIP Ride and Drive Experience. Guests looking for the ultimate VIP experience are picked up in style at the Paso Robles Inn and will enjoy a scenic drive through Paso Robles Wine Country before arriving at Strings at Sunset.
Strings at Sunset will be held from 5:00 p.m. until 9:30 p.m. with VIP Admission beginning at 5:00 p.m., and General Admission entry starting at 6:00 p.m. VIP Tickets are priced at $150 per person and General Admission are priced at $85 per person. For tickets and more information about Sunset SAVOR The Central Coast visit savorthecentralcoast.com.
[embed]https://vimeo.com/117131388[/embed]