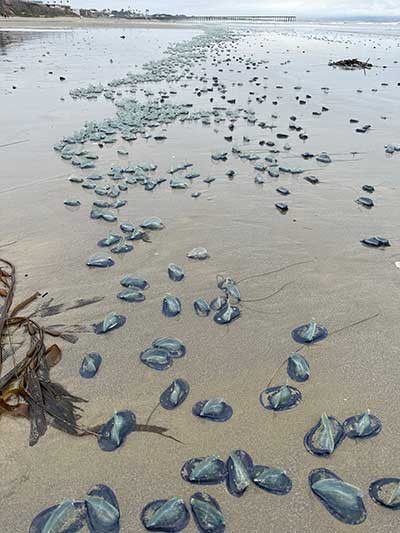 Visiting Pismo Beach is a pre-summer delight! Lodging specials abound, and there are so many interesting things to do and see.
Beaches from Northern to Southern California have been treated to a rare occurrence—By-the-Wind-Sailors, or Velella, beautiful Persian blue sea creatures, have been washing up on the beaches. Warm ocean currents 'sail' them around the world. Vellela are colonial hydroids, made up of colonies of tiny individual animals that use their stinging tentacles to prey on small fish and other animals. The blue pigmentations may serve as camouflage and protection from the sun's rays. These colorful Sailors are not dangerous to humans, but it's better to appreciate them with your eyes and leave their fate to nature, since they may cause slight irritation if handled. Let's put it this way—unfortunately, this is their last voyage. But it's a super cool experience to actually see the Sailors!
Come stay with us and take advantage of the pre-summer lodging specials in Pismo Beach. Check out dog friendly accommodations, too. There is so much to see and do. Take a stroll around Pismo Pier Plaza and walk along the beach or surf and swim in the pristine Pacific. Experience excellent dining and some of the best seafood around. Hike the Pismo Preserve. Partake in unforgettable wine tasting. Check out Pismo's Events page for upcoming activities, such as the Classic Car Show and Art in the Park.
There are so many wonderful things about visiting Pismo Beach, and we can't wait to see you!