Visit the Monarch Butterflies at the Pismo State Beach Monarch Butterfly Grove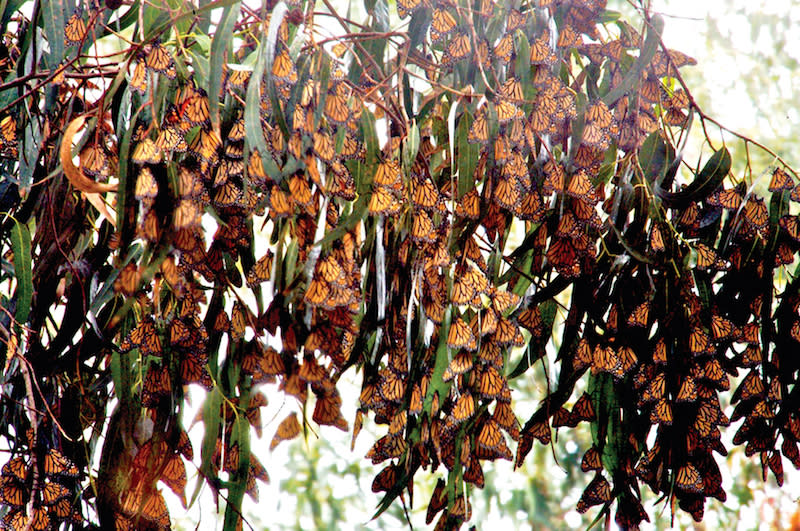 It's that time of year again; monarch butterflies are overwintering at the Pismo State Beach Monarch Butterfly Grove.
Every year, monarchs west of the Rocky Mountain Range travel to small groves of trees along the California coast to overwinter. The butterflies start to arrive in late October and remain in the area until late February. Pismo State Beach hosts one of the largest overwintering congregations in the country. According to www.monarchbutterfly.org, a website funded by the Pismo Beach Conference & Visitors Bureau, more than 25,000 monarchs make the journey to Pismo State Beach every year. Some of the butterflies travel as many as 1,000 miles to get here.
While in the area, the butterflies form dense clusters in the eucalyptus trees at the south end of the North Beach Campground. Clustering shelters the monarchs from the rain and wind. If you look closely at one of the many clusters, you'll see each one of the butterflies hanging with its wing down over the one below it to form a shingle effect. This also generates heat for the cluster and keeps the cluster warm during the brisk winter months.
The grove is staffed daily from 10:00 a.m. to 4:00 p.m., with docent talks at 11:00 a.m. and 2:00 p.m. to accommodate the visitors who come from all over the Central Coast to see the butterflies. If you're planning a visit to the grove, try to come on a fairly sunny day. If the weather is warm, some of the monarchs will break away from their clusters.
Once again, this is a great time to see the butterflies; more often than not, the grove's highest counts are in late December, so don't wait to make your visit.
For more information or directions, please call the Interpretive Office of the Oceano Dunes, California State Parks at: 805-773-5301.