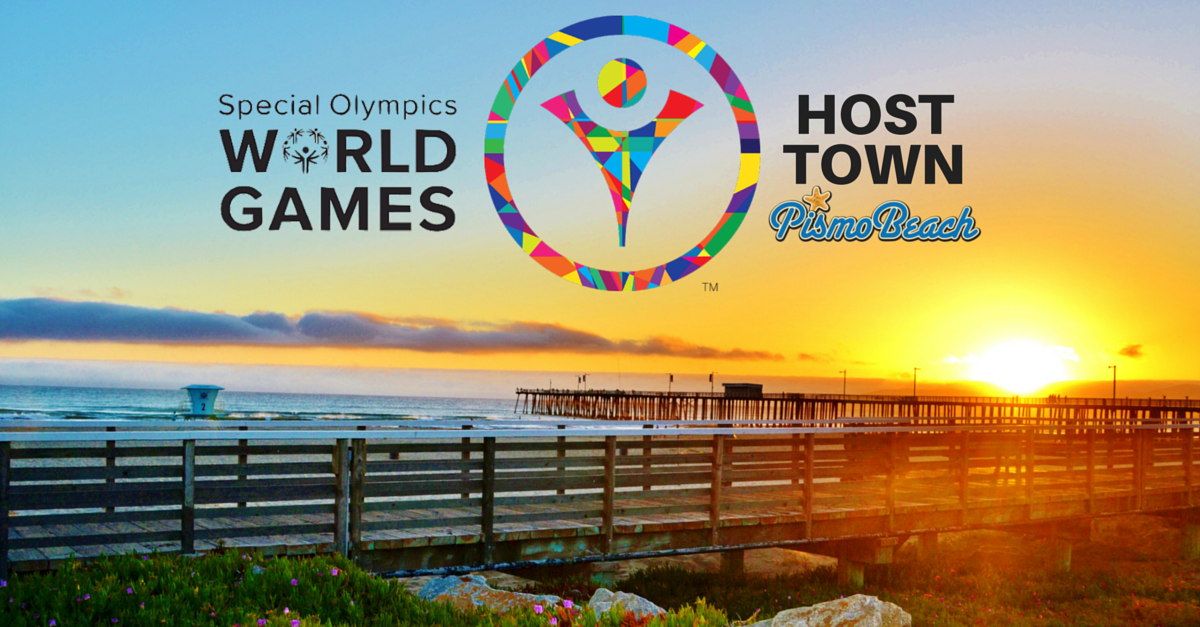 Welcoming The United Arab Emirates Special Olympics Team
On the evening of Wednesday, July 22, 2015, Pismo Beach and Grover Beach are joining forces to host over 80 members from the United Arab Emirates Special Olympics Team for a celebratory dinner and beach party for the athletes and their trainers.
Generously donated by Bruce Van Vort of Fin's Seafood Restaurant & Bar in Grover Beach, dinner will be served from 6:30 to 7:30 pm at the Pismo State Beach Golf Course. United Arab Emirates Special Olympics Team athletes and their trainers will enjoy sumptuous 100% halal dishes, inspired dignitary speeches, and festive music. (The definition of "halal" is something that is permitted. It not only pertains to food but all permitted activities referred to in the Q'aran -- not just eating). After the dinner, from 7:30 to 9:00, the public is invited to join everyone seaside for a Classic California beach party (next to the Grand Avenue entrance). Four bonfires will light up the night and decadent halal ingredients to make s'mores will be provided for all attendees.
More than 7,000 athletes from 177 countries will be welcomed to Southern California through the Special Olympics Host Town program. One hundred communities from San Luis Obispo County to San Diego have been selected as official Host Towns. The Host Town program has been an important element of Special Olympics World Games since 1995. Communities are evaluated on the availability of lodging accommodations, sports practice facilities and recreation/entertainment offerings for the athletes, among other criteria. Host Towns are also responsible for planning activities for the athletes to introduce them to the community and help spread the word about the Games. Other San Luis Obispo County communities participating in the Special Olympics World Games Host Town program from July 21 – 24, 2015 include Arroyo Grande, Atascadero, Morro Bay and San Luis Obispo.
The complete schedule of events in SLO County include:
July 21 (Atascadero): 7:00pm-8:30pm at Atascadero Lake park during music in the park (Public is welcome)
July 22 (Arroyo Grande): 12:30pm-1:30pm at the Rotary Bandstand in Arroyo Grande (Public is welcome)
July 22 (Pismo Beach/Grover Beach): 7:30pm-9:00pm for S'mores and beach games at the Grover Beach Grand Avenue beach entrance (Public is welcome)
July 23 (Morro Bay): 11:00am-12noon enjoy games and photo booth at Morro Bay Del Mar Park (Public is welcome)
July 23 (Downtown SLO): 6:00pm-8:00pm for photo booth and tour of San Luis Obispo farmers Market (Public welcome)
Eunice Kennedy Shriver founded Special Olympics in 1968. Today, the movement has grown to more than 4.4 million athletes in 170 countries. With the support of more than 1.3 million coaches and volunteers, Special Olympics delivers 32 Olympic-type sports and more than 81,000 games and competitions throughout the year. Special Olympics is a non-profit organization and is supported by individuals, foundations and partners. Their mission states that Special Olympics "unleashes the human spirit through the transformative power and joy of sports, every day around the world. We empower people with intellectual disabilities to become accepted and valued members of their communities, which leads to a more respectful and inclusive society for all. Using sports as the catalyst and programming around health and education, Special Olympics is fighting inactivity, injustice and intolerance."
This year, the 2015 Special Olympics World Games will be staged in Los Angeles from July 25 to August 2, 2015. It will include 7,000 athletes and 3,000 coaches representing 177 countries, along with 30,000 volunteers and an anticipated 500,000 spectators. It will be the largest sports and humanitarian event anywhere in the world in 2015, and the single biggest event in Los Angeles since the 1984 Olympic Games. The 2015 Special Olympics World Games will feature twenty-five Olympic-style sports in venues throughout the Los Angeles region. The Opening Ceremony is expected to attract 80,000 spectators. It will be held July 25, 2015 at the historic Los Angeles Memorial Coliseum, the site of the 1932 and 1984 Olympic Games.
Honorary Chairs of the Games are President Barack Obama and First Lady Michelle Obama, with Los Angeles Mayor Eric Garcetti and California Governor Jerry Brown serving as Honorary Hosts. For more information on the 2015 Special Olympics World Games, including volunteer and sponsorship opportunities, visit www.LA2015.org and on social with #TheWorldisComing on Facebook, Twitter and Instagram. For more information, visit Special Olympics at www.specialolympics.org and join them on Twitter; Facebook; YouTube; Instagram; and on their blog.
For more Special Olympics Host City event details and updates in Pismo Beach, visit the Pismo Beach Facebook page.