This is the usual time of year when we experience high tides along our shore. When this occurs, with a large swell, water can reach our back beach. This was the set of circumstances this week. On Saturday, with the swell at its largest, we saw water touch the seawalls. The outer volleyball courts were swallowed up and even some of the middle courts were unplayable. This set of conditions makes for a challenge to the high tide beach walkers. especially those that try to do the walk with shoes on their feet.
Keep track of Pismo Beach tides here.
Beach observers know that we loose sand during the winter and gain sand back during the summer. How much sand we lose during the winter is dependent on the high tides, coupled with storm swells. Some of the locals are discussing if this will be another year that we can see some of the buried structures appear out of the sand. It has been only seen twice in 30 years, but there is the remnants of a concrete ramp that is offshore south of the pier, down by Hinds and Ocean View. Look for it during the minus low tides that occur at this time of year. Below is yesterday's low tide view from the pier. Nothing is showing up yet.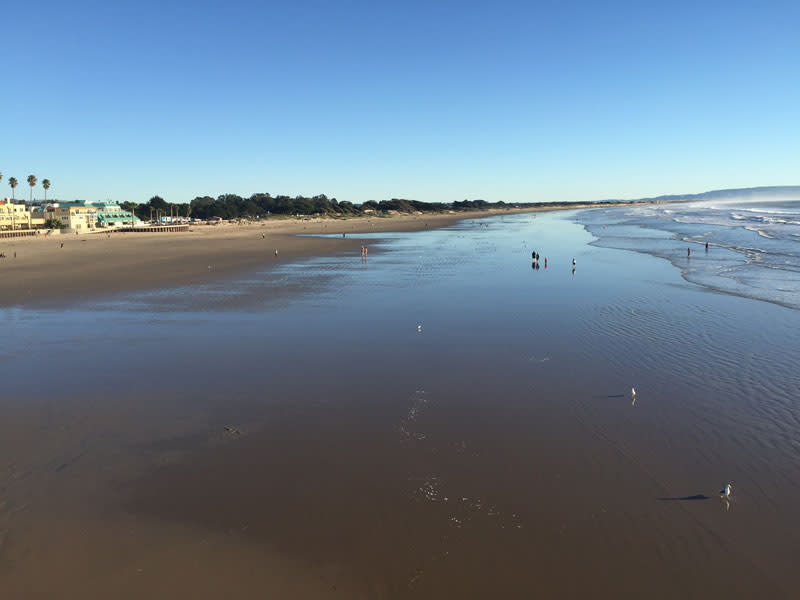 Of course our latest round of high tides is nothing when compared to our March 1 of this year, when the pier was closed and the beach was totally awash, with water coming up the Hinds ramp. See the video below.