Classic California Christmas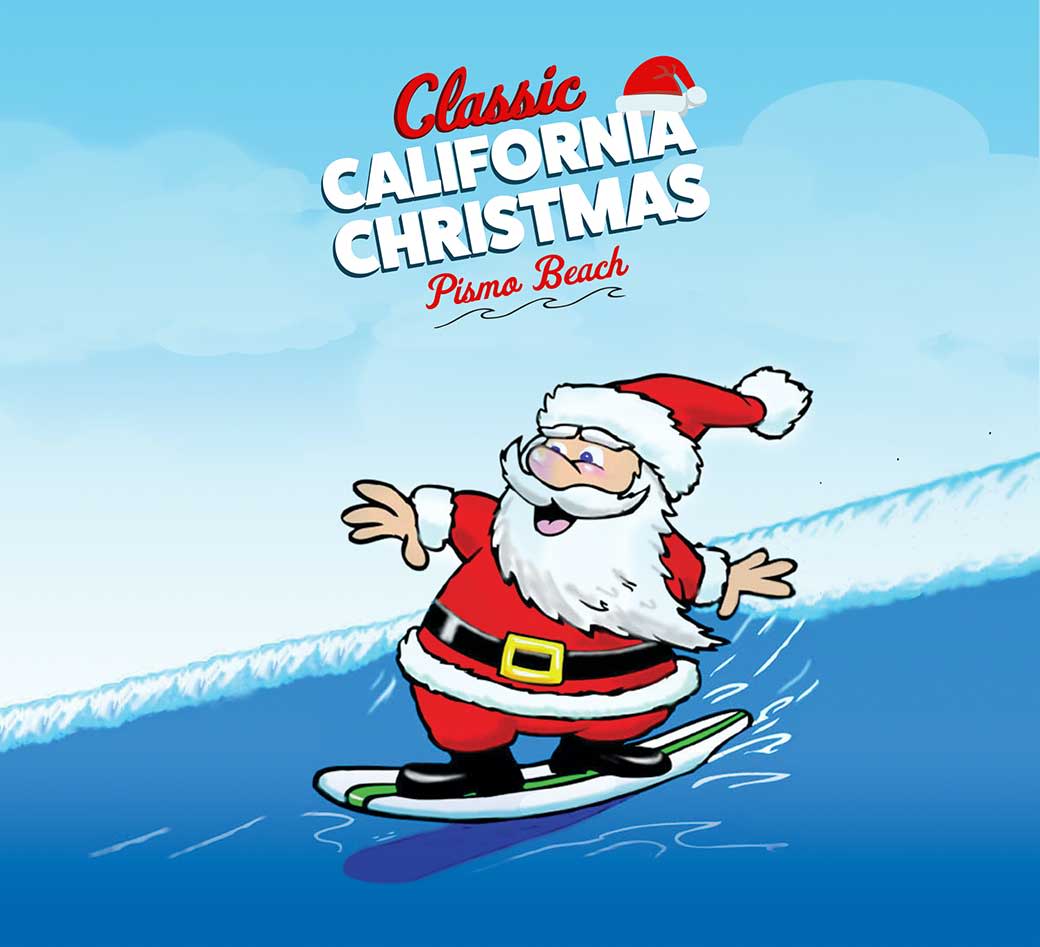 The Pismo Beach Chamber of Commerce Presents
Join the Pismo Beach Chamber of Commerce for their month-long celebration of the holidays. Classic California Christmas is a fun-filled holiday promotion that is packed with fun events for the whole family. When you think of holiday shopping and celebrations, think Pismo Beach! Enjoy the beautiful weather while you make holiday memories with family and friends. Who knows, you might just run into Santa getting in a surf or picking up some extra gifts for all those good little boys and girls. There is a lot going on in our beach communities. Make plans to join us for these fun events:
Surfboard Decorating Contest – Contest runs from December 1st to 20th.
Decorated surfboards will be popping up all over Pismo Beach, Shell Beach even Oceano, and on display until December 20th. How many can you find? You need to look high and near to find them all. We encourage you to take photos and tag the Pismo Beach Chamber of Commerce on your social media. Final judging will be December 20th on the Pier. Surfboards will be judged on categories of, Best Classic Christmas Theme, Best Pismo Beach Theme and Most Creative.
Deal of the Day Shopping Promotion - Daily from December 11th to 23rd.
Follow our Facebook page to see the Deal of the Day. Each day from December 11th through December 23rd local businesses will announce a special, money saving deal for that day only. Come on down and take advantage of the "Deal" and support your local businesses.
Surfboard Decorating Competition Judging – Pismo Beach Pier, Monday, December 20th – 10:00 am
Our month-long Surfboard Decorating Competition comes to its finally on the Pismo Beach Pier. Participants will bring their boards to the pier for a final judging and announcement of the winners. Participants will be judged on the categories of Best Classic Christmas Theme, Best Pismo Beach Theme and Most Creative.
Santa Express, Drive by Parade - Tuesday, December 21st – Time 5:30 pm
The team from the Pismo Beach Chamber will be bringing back our Santa Express. In response to the lock downs in 2021, the Pismo Beach Chamber decided to take Santa to the streets with our Santa Express. We drove through neighborhoods in Shell Beach and Pismo Beach spreading holiday cheer! Watch for us on December 21st.

For more information or requests to participate in any of our events, please contact the Pismo Beach Chamber of Commerce at 805.773.4382 or email us at info@pismochamber.com.