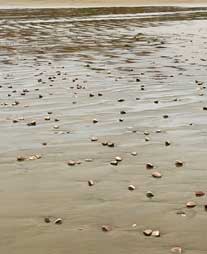 It's been a HOT one this past July, but not in Pismo Beach! There are so many cool things to do here and great lodging specials to take advantage of. If you're traveling with your canine companion, no problem—check out pet friendly lodging. And you can't beat the weather—it's always pleasant and comfortable, with nice warm days and cool nights. We have award winning dining, with a wide variety of cuisines to please anyone's palate. Our wine region offers the perfect pairing of Wine and Waves. Also, check out family/child friendly activities.
If it's peace and serenity you crave, a walk on Pismo Beach at low tide is a treat for your soul. Pismo clams are visible at low tide, and so are live sand dollars. You can watch clams dig themselves into the sand and squirt out filtered water as they eat. Delicate live sand dollars cling to the softest sand your toes have ever felt. Many varieties of seabirds peck and feed along the water line.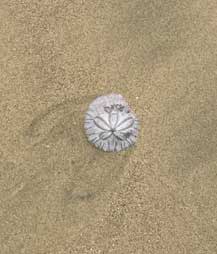 Some important things to remember: You may only take clams if you have a license and the clams are regulation size (4 inches in diameter). The clams and sand dollars you see at low tide are living, so enjoy the view and please leave them be. To help rebury a clam, follow the guidelines to properly return them into the sand. Please keep your dogs from chasing the seabirds—dogs can harm and/or stress out wildlife. Never throw clams out into the water—this can be deadly for them.
From the breathtaking vistas to the soothing sounds of the sea, this coastal haven offers a sanctuary where you can unwind, reflect, and appreciate the simple joys of life. If you're looking for a place to rejuvenate your soul and immerse yourself in the beauty of nature, Pismo Beach is a destination that promises an experience like no other. Come enjoy cooler weather and fresh ocean breezes. Your mind, body, and spirit will thank you! See you soon.