Pismo Beach Pier Plaza
New Experiences to Enjoy in Pismo Beach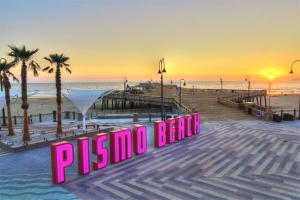 Colorful, illuminated seven-foot-tall letters spell out Pismo Beach, and the Whale Surfing Playground, overlooking the beach, features the colors and elements of the surrounding nature. The inspiration for this Whale Surfing Playground is found in local marine life, surfing culture, and nature around Pismo Beach. To create an adventurous scenario, surfing is combined with the fascinating natural phenomenon of a Humpback Whale breaching and creating waves.
Vintage Airstreams on the Pier: The renovated historic Pismo Beach Pier hosts a trio of Vintage Airstreams, with each offering different experiences to enjoy, including a concessionaire serving appetizers and drinks, a visitor's center, and Sheldon's Bait Shack.
Sheldon's Bait Shack: For nearly 45 years, Sheldon's Bait Shack, a family-owned business, has been a staple on Pismo Beach Pier. Sheldon's sells poles, bait, candy, snacks, and more seven days a week.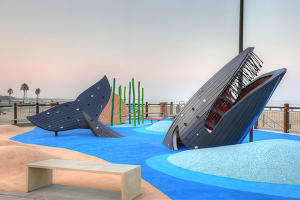 Pismo Beach Visitor's Information: The Pismo Beach Conference and Visitors Bureau is excited to welcome visitors to Pismo Beach from the Visitor Information Airstream on the Pismo Pier. Stop by for information on lodging, dining, activities, and maps seven days a week.
Sunsets at Pismo on the Pier features gourmet street food, along with local beers and wine. It's a delicious, unique dining experience on the Pier, open seven days a week.
The Shell Beach Streetscape, located in Shell Beach, features an 18-block pedestrian-bike path, with waterways and picturesque landscaping. The walkable path takes you along shops and cafes while you take in the great outdoors and beautiful weather.
Share Your Photos Here Using #PismoPlaza